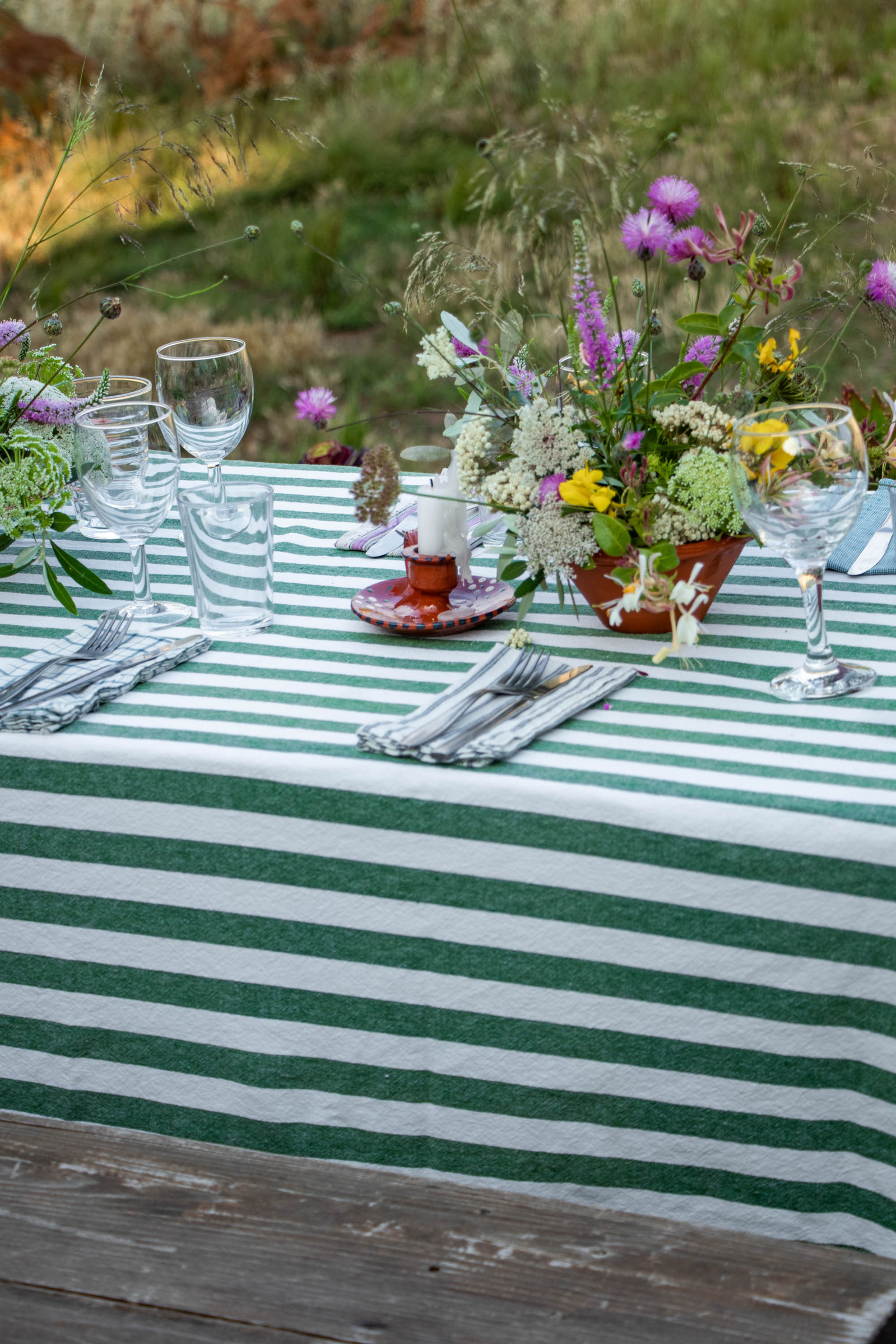 I love setting summer tables!
A centerpiece can add a festive note to table settings and help the whole table to sing! Wildflowers and soft cultivated flowers like grasses, thistles, ammi, honeysuckle, and Queen Anne's lace, add a soft and light touch to a table without detracting from your food and setting.
A wildflower centerpiece I created for our Flower and Garden Retreat. Tablecloth by KINDA, Napkins by Caravane.
Guests feel more comfortable sitting with a light and breezy centerpiece that they can see over or through! Sprinkling edible flowers into and on top of food can add the perfect seasonal brightness and color to outdoor meals.

A pretty table doesn't need to be overdone but you can find joy in setting a simple table and adding these seasonal touches that aren't so overdone that guests feel uncomfortable.
A few of my table setting rules:
-natural linens for table and napkins including 100% cotton or linen
-mix patterns and colors but stick to one to three colors if possible and always use a dominant color if you are using more than one color.
-keep flowers casual, low, and loose!
-include edible flowers or herbal garnishes
-don't use formal or cliched table accessories like placemats, napkin rings, chargers, or other decor that doesn't feel necessary or useful
-you don't need to follow rules about utensils as long as you include the utensils needed for that meal and each course.
-setting food on a counter or table near the seating or in the middle of the table, family style involves guests in the process and helps you enjoy the experience of the food which should be the main focus!
I loved our outdoor meals shown here in Portugal for our Flower and Garden ​Retreats this past May! Join us next May for a week of flower arranging, garden touring, and soaking up the best of the landscape in Portugal with garden-loving people! Check out the details here.​