Virtual Flower Arranging Workshops
for
CORPORATE TEAMS
Fresh flowers as well as the act of flower arranging are proven to help fight depression, improve memory, and lift moods, making a flower arranging workshop the perfect activity for your corporate team! We offer custom flower arranging workshops, live through Zoom for private groups, team building workshops, and office parties.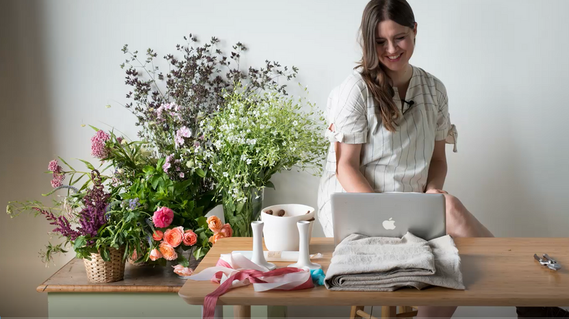 Zoom Flower Workshops for Corporate Teams
-Chelsea will walk you through every step of a flower arrangement, wreath, or bouquet.

-You will learn an eco-friendly technique you can use for every flower arrangement you make.

-Learn how to incorporate flowers into your wellness practice.
-Interactive class, with personal feedback given to students.
-Flower kits from our small organic, flower farm can be shipped in time for the class, or you can procure your own ingredients.
-Past workshop clients include: Microsoft, SAP, Etsy, Stripe, and Gap.
Flower Kits

Flower kits are shipped in time for the workshop, freshly picked from our small, organic flower farm supplier.
-Clippers
-All supplies
-Fresh organic flowers
-Available in the USA and UK. Please inquire for other countries.
Flower Workshop
-Fun and interactive!
-Personalized feedback
-Customized classes that integrate seamlessly into your event
-Downloadable notes provided
-Choose from vase arrangements, wreaths, dried flowers, bouquets, or a custom topic
Book Your Team Flower Arranging Workshop!