A Wreath Masterclass!
Start making wreaths at home today! Learn about the tools and methods I use to make seasonal wreaths in my natural-organic style. Once you know these techniques, you can make your own wreaths with materials and tools you have at home.

Testimonials and Student Work
The Wreath Masterclass has been popular with novice floral designers as a mini workshop to begin learning the techniques of floral design at home and to make their own wreaths, without having to purchase a wreath each season.
A Wreath Masterclass: Course Content
This mini online workshop covers three styles of wreaths. I invite you into my rural cottage in Portugal to make wreaths along with me, using tools and materials you can find in your own neighborhood.
Lesson 1: Classic Green Wreath
-Learn the classic method for a green holiday wreath.
-We will cover techniques and tools.
-Upload your own classic green wreath to the online classroom for feedback.
Lesson 2: A Fruited Wreath
-Learn how to make a fruited wreath.
-Learn the wiring techniques for fruit and pine cones.
-Make your own fruited wreath and upload it to the online classroom for feedback.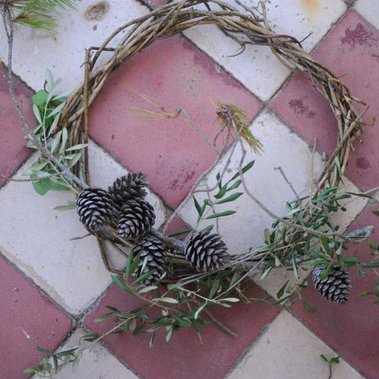 Lesson 3: A Foraged Wreath
-Learn how to create a wire-free wreath with foraged materials.
-Learn the techniques for creating an all-natural, easy to assemble wreath.
-Get ideas for sourcing and materials.
-Make your own foraged wreath and upload a photo to the online classroom for feedback.
About Chelsea
With over twenty years experience as a florist and floral stylist, I pair my skills as a stylist and my training in classical floral design to create floral designs that feel effortless, fresh, and straight from the garden! My first flower arranging book will publish Spring 2021 with Abrams. In my online flower workshops at Frolic! Flower School, I teach you all my secrets for composing fresh floral arrangements for clients or just for yourself. Learn more about my story here.
What supplies do I need for the course?
If you want to complete the homework (we recommend doing the homework!), you will need a few supplies. Each lesson offers a full list of supplies. You will need:
Access to ffresh greens, twigs, berries, or branches. Download our flower sourcing guide here.
Floral Wire in different widths
Flower clippers
Ribbon (optional)
A camera (can be phone) to take photos of your assignments to submit for homework.
Where do I find flowers?
We recommend Fifty Flowers and when you sign up, you will receive a discount code to shop with them.
You can also download our sourcing guide here for additional ideas.
How long do I have access to the course?
You will have ongoing access once you sign up!
Do I need to be located in the USA?
No. We have had students from all over the world!