What Students Are Saying
Flower students range from complete beginners to florists who want to brush up their skills. Below, discover the gorgeous flower arrangements students around the world are creating, and the feedback they have on the courses. Watching people fall in love with flower arranging is the best part of the job.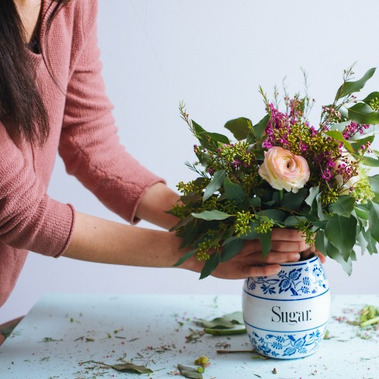 Flower Arranging 101

Marie. C, Paris and NYC.
"Chelsea's 101 flower tutorial is the equivalent of a yoga session with the scent of flowers."
Wedding Flowers
Jennifer, Portland, OR
"In Chelsea's online Wedding Flowers class, you can learn how to pick out and arrange flowers from the comfort of your own home with feedback from a wonderful teacher."
Flower Arranging 101
Emily Quinton, London, England
"I really enjoyed Chelsea's inspiring Flower Arranging 101 class. It inspired me to be creative with my flowers and I really loved that it was achievable. The lessons fitted into my busy life and really made me smile."
Flower Arranging 101

Danyelle, Washington State
"Floral Arranging 101 is the perfect, go-at-your-own-pace creative learning experience. Chelsea's inspiring lessons are easy to follow and full of tips and tricks that left me feeling confident and excited to play with flowers.

The stress-free homework assignments pair perfectly with the lessons and Chelsea's individualized feedback really helped me improve."
More feedback from students:


All photos copyright respective students except Jackie's bridal photo by Jennifer Emerling.